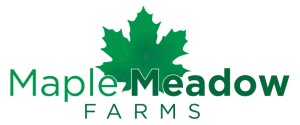 Maple Meadow Farms was established almost a century ago in 1923. Four generations of Acres' have operated this successful family farm located in Osgoode ON Canada. Today Dwayne Bazinet, Colleen Acres and their 3 sons participate running and managing the day to day operations.
Maple Meadows is home to a flock of 450 sheep, a small beef herd, and a cash crop operation of corn and soybeans.
This farm has always been a source for healthy, high quality breeding stock. Livestock producers from across North America continue to appreciate our breeding strategies and successful genetics.
Raising homegrown beef, lamb, chicken and eggs that are bred and fed here on the farm, we are proud to offer safe, natural, locally produced meat products to our customers. We welcome you to have a look at all aspects of our farming enterprise.
We are proud to continue a tradition of farming excellence at Maple Meadows.
Please browse our website and discover additional information on the breeds of sheep that we raise and availability of genetics to other producers. Also discover details about Maple Meadows' meat available for your freezer or store – natural, local lamb, beef and chicken.